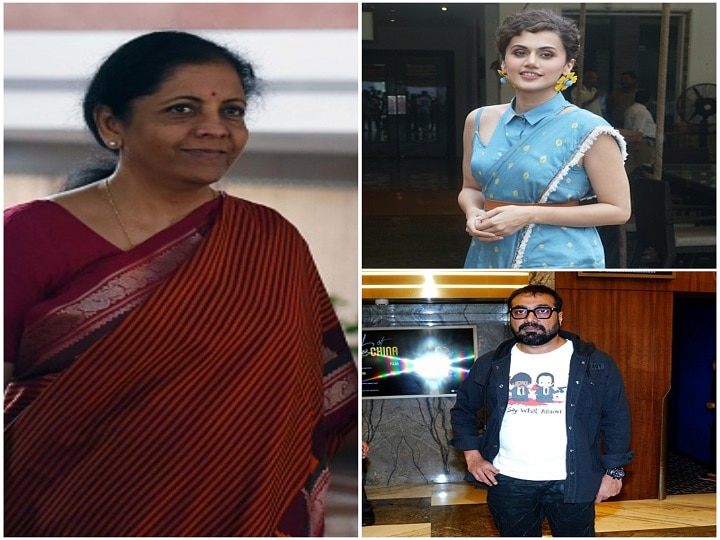 New Delhi: Union Finance Minister Nirmala Sitharaman on Friday hit out at the opposition for questioning the government with regard to the Income Tax (IT) raids at the properties of filmmaker Anurag Kashyap and actor Taapsee Pannu besides others, saying it exposes the double standards on part of those pointing fingers at the ruling dispensation.
Justifying her assertion, the Finance Minister said that similar raids were conducted on the people linked with the Bollywood industry during the Congress-led UPA regime in 2013.  
"I will not mention any case and neither name anyone but questions are raised when such steps are initiated during the tenure of our government. When such steps were initiated against them (Bollywood) in 2013 then why no questions were put up?" Nirmala Sitharaman asked.
ALSO READ: West Bengal Polls: Mithun Chakraborty To Join BJP During PM Narendra Modi's Kolkata Rally
"Isn't this double standards? Should we not get to the bottom of the matter to find out whether something wrong is taking place or just questions must be raised since the raids were carried out during the tenure of our government?" she added.
The Finance Minister's response came as the leaders of several opposition parties, including the Congress and Nationalist Congress Party (NCP), have accused Prime Minister Narendra Modi-led government of using the central investigating agencies to silence those questioning the ruling dispensation at the Centre.
ALSO READ | OCI Cardholders Require Special Permission To Undertake 'Tabligh', Media Activities
The officials of the Income Tax department, which carried out searches at the properties of filmmakers Anurag Kashyap, Vikas Bahl, Madhu Mantena and actor Taapsee Pannu, found several discrepancies were in the amount floating around B-town transactions, including manipulation of income and bogus expenditures.
Earlier on Thursday, the Central Board of Direct Taxes (CBDT) in a statement revealed that they have found tax implications of about Rs 350 crore, adding further investigation is underway in the matter.